Glossary of Locksmith Terminology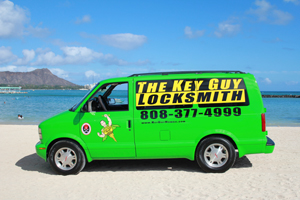 Curious about Locksmithing?
Confused about the difference between cutting a key and duplicating a key?
Want to prepare before you explain your lock problem over the phone?
Help The Key Guy help you! Brush up on the most commonly used terms in locksmithing with The Key Guy's Glossary of Locksmith Terms, or just call us with your questions at 672-2048..
Access Control System

A system wherein many parties have access to a common door, gate, or other locked area. A building manager or other administrator has control over who has access and who doesn't, and to what areas. Commonly used in commercial buildings.



Blank



An uncut key. In the case of transponder keys, a key that is both uncut and unprogrammed.



Change locks

[service] Replace old lock hardware with new lock hardware, meaning the entire doorknob, deadbolt, mortise, lever, etc. The Key Guy can re-key the new lock to fit your existing keys, or give you new keys with your new lock.



Chip Key

(see Transponder Key)



Cylinder



The part in a lock that turns when you turn your key inside it. It activates the locking mechanism. Can be changed without changing the entire lock for purposes of re-keying.



Cut Key

[service] Create a new key; not to be confused with key duplication.



Deadbolt



A door lock usually employing a key cylinder on one side and thumbturn on the other. More secure than a doorknob because it cannot be picked. Can be single or double-sided (key entryway on one or two sides). The Key Guy recommends use of a deadbolt on all entry doors in conjunction with a doorknob.



Doorknob

Round-handled hardware for securing a door. Also known as Entry Door Knob or lockset.



Duplication

(see Key Duplication) [service] make a copy of an existing key; not to be confused with cutting a key. It is not recommended to make duplicates of duplicates because of copying errors.



High-Security Lock

A heavy-duty lock that provides more security than other locks. Frustrates picking attempts, thwarts drilling, and often provides key control. The Key Guy carries high security locks of commercial and military grade. The Key Guy is the only authorized Mul-T-Lock dealer in the state of Hawaii.



Key Duplication

[service] make a copy of an existing key; not to be confused with cutting a key.



Key Reconstruction

[service] create a key to match an existing lock when all original keys have been lost.



Keyless Entry

Method of opening locks without a traditional key. Method can be electronic or mechanical. For example, numbered keypad, fob, proximity card, magnetic stripe card.



Lock

Hardware for securing doors, including doorknobs, deadbolts, and latches are all types of locks.


A key cut using a special laser cutting machine. Cannot be duplicated on regular duplicating machines. Not all locksmiths carry laser cutting technology.



Lock Re-Key

(see Re-Key) [service]



Lockout

[service] When the locksmith opens a lock of any type. Usually for cars, houses, or apartments.



Master Key

Opens all locks on the corresponding Master Key System. Individual keys on the system are limited to opening individual locks. Useful for building managers, commercial buildings, and property managers.

Master Key System
A system in which one "master" key can open all the individual locks in the system, but individual-door keys can only open a single door.



Re-Key

[service] Manipulate a lock so that different keys open it.

Transponder Key
(also known as Chip Key or Electronic Chip Key) A vehicle key with an electronic chip lodged in the head. The chip has a code that the car is programmed to recognize. Without a correctly programmed chip in the key, the ignition will not start.
Still have questions?
Call The Key Guy! 548-1999 on Oahu
The Key Guy > Locksmith Tips > Glossary
The Key Guy is a kama'aina company located in Honolulu, Oahu, Hawaii.
Please support local businesses!

Proudly serving the entire island of Oahu, including Honolulu, Waikiki, Makiki, Waialae, Manoa, UH, Kaimuki, Ala Moana, Kakaako, Kahala, Diamond Head, Black Point, Hawaii Kai, Waipio, Aina Haina, Aiea, Kalihi, Salt Lake, Mapunapuna, Red Hill, Sand Island, Liliha, HNL Airport, Ala Moana, Tantalus, McCully, Moiliili, Kapahulu, Port Lock, Niu Valley, Palama, Kalama Valley, Palolo, Pearl City, Ewa Beach, Kunia, Kapolei, Waipahu, Maili, Schofield Barracks, Kaneohe, Kailua, Waimanalo, Iroquois Point, MCBH, Fort Shafter, Wheeler, Pearl Harbor, Wahiawa, Mililani, Waianae, Nanakuli, Koolina, Haleiwa, Laie, Kahuku, ZIP Codes 96818, 96813, 96814, 96815, 96701, 96821, 96706, 96717, 96825, 96826, 96816, 96734, 96816, 96744,96707, 96782, 96792, 96797,96822, 96836 and growing!